Alcon Introduces Hardware and Software Upgrades for the INFINITI® Vision System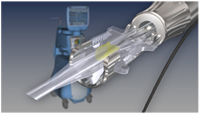 INFINITI® Vision System hardware and software upgrade kit provides surgeons more precise surgical control1,2 during cataract removal procedures.
Hardware upgrade includes the first automated intraocular lens (IOL) delivery system through Alcon's INTREPID® AutoSert® IOL Injector.
INFINITI® Vision System continues to deliver new innovations in cataract surgery that deliver improved surgical performance and patient outcomes1,2.
FORT WORTH, Texas, February 4, 2013 – Alcon announced today the launch of its latest hardware and software upgrades for its INFINITI® Vision System to provide surgeons greater control1,2 during cataract surgery. As part of the upgrades, Alcon is introducing the innovative INTREPID® AutoSert® IOL Injector, which enables automated delivery of the intraocular lens (IOL).
According to many cataract surgeons, having surgical hardware that can enable automated IOL delivery is an important step in standardizing the consistency and control of cataract surgery. Compared to the variable delivery forces that can be experienced using a manual injector, the INTREPID® AutoSert® IOL Injector hardware features controlled, consistent IOL delivery, helping surgeons gain more precise surgical control during IOL insertion1,2.
Additionally, the INTREPID® AutoSert® IOL Injector hardware and software upgrades allow:
Customizable parameters for enhanced IOL insertion control

Foot pedal control to allow better globe stabilization

Single-hand auto insertion for smoother insertions

Support for all standard incision sizes, especially Micro-Incision Cataract Surgery

Better wound integrity – less stretching, minimized disruption and trauma1,2
______________________
1 Allen, D., M. Habib, and D. Steel, Final incision size after implantation of a hydrophobic acrylic aspheric intraocular lens: New motorized injector standard manual injector. J Cataract Refract Surg, 2012. 38(2): p. 249-55.
2Johansson, C. Comparison of Motorized IOL Insertion to Traditional Manual IOL Delivery. in ASCRS. 2011. San Diego, CA.

"We are pleased to offer our INFINITI® Vision System customers the opportunity to further expand the platform's functionalities. INTREPID® AutoSert® technology increases surgeons' control during the IOL delivery step, further reducing another variable of the cataract procedure, and, in turn, continuing to maximize consistency in overall patient outcomes," said Laurent Attias, Head of Global Commercial Strategy, Alcon. "The delivery of our INTREPID® AutoSert® IOL Injector represents an important step forward within the cataract market, and further differentiates us from the competition on the level of new innovations and technologies we offer surgeons through our INFINITI® Vision System."
The INFINITI® Vision System hardware and software upgrade kit will become available globally during the first half of 2013. Current customers will be able to seamlessly incorporate the software upgrade to their current INFINITI® Vision System. Those interested in learning more about the new INTREPID® AutoSert® IOL Injector hardware, or additional information concerning the INFINITI® Vision System, can visit www.infinitivision.com, or contact their Alcon representative.
About Alcon
Alcon, the global leader in eye care, provides innovative products that enhance quality of life by helping people worldwide see better. The three Alcon businesses - Surgical, Pharmaceutical and Vision Care - offer the widest spectrum of eye care products in the world. Alcon is the second largest division of the Novartis Group with pro-forma sales of USD 10.2 billion in 2012. Headquartered in Fort Worth, Texas, U.S.A., Alcon has 24,000 employees worldwide, operations in 75 countries and products available in 180 markets. For more information, visit www.alcon.com.
Media Inquiries:
U.S. Important Safety Information About INFINITI® Vision System
For more information about the INFINITI® Vision System  please refer to the accompanying important safety information.
Caution: Federal law restricts this device to sale by, or on the order of, a physician. As part of a properly maintained surgical environment, it is recommended that a backup IOL Injector be made available in the event the AutoSert® IOL Injector Handpiece does not perform as expected.
Indication: The INFINITI® Vision System is indicated for emulsification, separation,
and removal of cataracts, the removal of residual cortical material and lens epithelial cells, vitreous aspiration and cutting associated with anterior vitrectomy, bipolar coagulation, and intra-ocular lens injection.  The INTREPID® AutoSert® IOL Injector Handpiece is intended to deliver qualified AcrySof® intraocular lenses into the eye following cataract removal. 
The following system modalities additionally support the described indications:
Ultrasound with UltraChopper® Tip achieves the functionality of cataract separation.
AquaLase® Liquefracture Device achieves the functionality for removal of residual cortical material and lens epithelial cells.
The INTREPID® AutoSert® IOL Injector Handpiece achieves the functionality of injection of intraocular lenses.  The INTREPID® AutoSert® IOL Injector Handpiece is indicated for use with AcrySof® lenses SN60WF, SN6AD1, SN6AT3 through SN6AT9, as well as approved AcrySof® lenses that are specifically indicated for use with this inserter, as indicated in the approved labeling of those lenses.
Warnings: Appropriate use of INFINITI® Vision System parameters and accessories is important for successful procedures. Use of low vacuum limits, low flow rates, low bottle heights, high power settings, extended power usage, power usage during occlusion conditions (beeping tones), failure to sufficiently aspirate viscoelastic prior to using power, excessively tight incisions, and combinations of the above actions may result in significant temperature increases at incision site and inside the eye, and lead to severe thermal eye tissue damage.
Adjusting aspiration rates or vacuum limits above the preset values, or lowering the IV pole below the preset values, may cause chamber shallowing or collapse which may result in patient injury.
When filling handpiece test chamber, if stream of fluid is weak or absent, good fluidics response will be jeopardized. Good clinical practice dictates the testing for adequate irrigation and aspiration flow prior to entering the eye.
Ensure that tubings are not occluded or pinched during any phase of operation.
The consumables used in conjunction with ALCON® instrument products constitute a complete surgical system. Use of consumables and hand pieces other than those manufactured by Alcon may affect system performance and create potential hazards.
AEs/Complications:  Use of the NeoSoniX®, OZil® torsional, U/S, or AquaLase® handpieces in the absence of irrigation flow and/or in the presence of reduced or lost aspiration flow can cause excessive heating and potential thermal injury to adjacent eye tissues.
ATTENTION: Refer to the directions for use for a complete listing of indications, warnings and precautions.